Become a cleaning professional!
We know that finding a good and stable cleaning job can be challenging. Our company is all about performing to achieve the highest industry standards and build a stable and loyal client base. We believe the company is as good as the people working for it, so we work hard towards building a team that will keep exceeding clients' expectations. 

You have the flexibility to create your schedule and set hours for the job. Suppose you are unsure what workload would suit you best. In that case, we can help by estimating and setting the threshold you can grow from professionally. 
We operate in all parts of the SBC metro area. We also ensure our team has enough time between the jobs to operate efficiently, change location, restock supplies, rest, and provide the best service possible.
What type of work will you do?
Most jobs are Standard Cleaning services for our regular clients. Duties vary from client to client but typically include cleaning rooms, vacuuming, mopping, dusting, wiping surfaces, taking the trash out, and tidying up. You can see the list of jobs for each cleaning package. In addition, you will be given instructions from clients about what needs to be done more or less extensively.
What workload will you get?
That depends on you, your availability, and your work experience. If you are friendly, positive, and flexible, we will give you work as much as you want to. We gradually increase the number of jobs to allow you to adjust and organize and get to know the clients. Knowing English well and a driver's license + your own car will enable you to travel long distances and take more clients.
How will you get paid?
You will get paid weekly, depending on the hours worked. In addition, you'll keep 100% of the tips you get, and you will get bonuses for every 5-star review client gives for your work.
How will you get bookings?
We will call or text you to check if you are interested in the job. If you decide to take a job, you will be sent a confirmation via text message with the date, time, and customer's address.
Requirements for the position of a cleaning professional:
At least two years of PAID professional cleaning experience, either with a company or by yourself
Legally able to work in the US
English speaking
Submit and pass a background check
Have access to email or smartphone
Responsible, reliable, and pleasant
Good to have
Valid Driver's License / ID
Have own working vehicle
CONTRACTORS must have their own cleaning supplies
CONTRACTORS must have or be willing to purchase Professional General Liability Insurance
We offer:
No registration fees
Weekly payment
Bonuses for five-star reviews
Stable regular clients
Bonuses for referring other cleaners
Find friends & improve communication
No difficult apps to work with
Start your cleaning professional career now!
You'll be able to get all the  support needed to achieve excellence and provide the best service possible.
Apply today, and we'll get back to you within a week.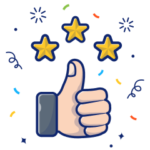 Thank you!
We'll get back to you within a week